There's always debate on which Ghanaian artiste sells most outside Ghana.
Whenever, this particular argument pops up, the name of Shatta Wale, Sarkodie and Stonebwoy is the most mentioned.
More so, Shatta Wale and Stonebwoy are the most compared taking cue from the competition between the two dancehall stars.
In the wake of the ongoing beef between Shatta Wale and Stonebwoy who are both signed unto one giant record label, Ghanaian-born UK based singer Stephanie Benson spoke to local media and said Reggae and Dancehall artiste Stonebwoy is a household name in the UK unlike his counterparts in the Ghanaian music.
However, Stephanie Benson claims the Stonebwoy is Ghana's most recognised artist in the UK.
"Stonebwoy is big in the UK, everybody knows about him there but the others are not so known there. I went for my radio tour just before I came with the song 'One More', and a couple of my songs 'Goodbye and 'Good Feeling' and everybody was asking me; do you know Stonebwoy and said yes!"
But former UK High Commissioner to Ghana, Jon Benjamin says Stephanie is clueless for claiming popular dancehall artist Stonebwoy has more recognition in the UK than anyone else.
In a tweet, the opinionated British diplomat says Stephanie's assertion is totally untrue.
"No, he isn't."
"Household name in the UK"? I can't think of a single friend or relative of mine in London who has ever mentioned or even heard of Stonebwoy, sorry"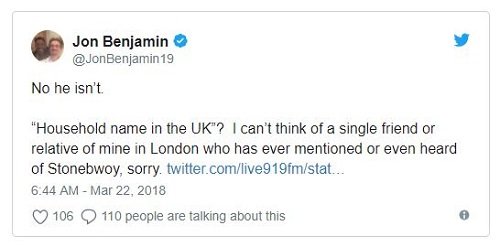 Read more: Kwaw Kese destroy Shatta Wale for insulting Stonebwoy's disability
Comments
comments